Survey
Math 180 students: If you took the department's ALEKS placement test, please consider taking this brief survey about the test.
Contents
COURSE MATERIALS
All sections of Math 180 require a textbook. Some sections also require an access code for the online homework system MyMathLab. Check with your instructor if you need both. You can purchase the textbook and access code separately or together. The UIC bookstore is offering discounted pricing on a bundle consisting of the textbook and an access code for MyMathLab.
The textbook is Calculus: Early Transcendentals by William Briggs and Lyle Cochran, published by Addison-Wesley.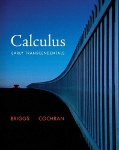 The design of the textbook's cover will depend on where you purchase it (the UIC bookstore has a "UIC version" with a special cover), but the contents of the book are the same.
We will cover chapters 2 through 5 in Math 180. A brief description of the material covered each week is given in the weekly schedule below.
You are expected to read the textbook before the classroom discussion of each topic, as indicated on the schedule of homework and reading assignments.
PREREQUISITES
Grade of C or better in MATH 121 or appropriate performance on the department placement test or a MATH ACT subscore of 28. Please make sure that you have met the prerequisite. Students without the prerequisite will not be allowed to take the course.
Please take a minute to do the survey about the ALEKS placement test: https://illinois.edu/sb/sec/2457922
HOMEWORK
Math 180 includes both written homework and online homework. Problem assignments from the textbook to be written and turned in are listed on the homework page. Online homework is handled through the web-based homework system MyMathLab.
Your instructor may assign additional problems (either online, written, or both).
MATH LEARNING CENTER
The Math Learning Center (MSLC) is located in SEO 430. It is a spacious and comfortable place to study. Staff will be available during its hours of operation to assist students with Math 180. You should visit the center and get to know different TAs and peer tutors that can provide you with instant help.
GRADES
The course grade is based on the total number of points from hour exams, homework, quizzes, and the final exam. Students are expected to be present for all exams. Makeup exams will only be given in case of a verifiable emergency or a formal request by the UIC atheletic department. Do not schedule travel on an exam date.
| | |
| --- | --- |
| Homework and quizzes | 100 points total |
| Two Hour Exams | 100 points each |
| Final Exam | 200 points |
WEEKLY SCHEDULE
Here is a brief overview of the material we will cover each week. (See also: detailed schedule and homework list)
| WEEK | SECTIONS | BRIEF DESCRIPTION |
| --- | --- | --- |
| 1 | 2.1-2.3 | Limits: Introduction, computation |
| 2 | 2.3-2.4 | Labor day, Squeeze theorem, infinite limits |
| 3 | 2.5-2.7 | Limits at infinity, Continuity, formal definition of a limit |
| 4 | 3.1-3.3 | Derivatives: Introduction, basic rules |
| 5 | 3.4,3.6 | Derivatives of trig functions, chain rule |
| 6 | 3.5 | Motion problems, Review & Exam 1, |
| 7 | 3.7-3.9 | Implicit differentiation, log, exp, inverse trig functions |
| 8 | 3.9-4.1 | Derivatives of inverse functions, related rates, max and min |
| 9 | 4.2-4.3 | Monotonicity, concavity, first and second derivative tests |
| 10 | 4.4-4.5 | Optimization problems, linear approximation |
| 11 | 4.6 | Mean Value Theorem, Review & Exam 2 |
| 13 | 4.7-5.1 | L'Hopital's Rule, antiderivatives, approximating area |
| 14 | 5.2 | Definite integrals, Thanksgiving |
| 15 | 5.3-5.4 | The fundamental theorem of calculus, average value, cancellation |
| 16 | 5.5 | Substitution method, Review |
CALCULATOR POLICY
Calculators are not allowed at the midterm or final exams
A basic calculator is needed for some homework problems
A graphing calculator is not required
A few homework problems have parts that explicitly instruct students to use a graphing calculator or graphing utility; these parts are optional.
STUDENTS WITH DISABILITIES
Students with disabilities who require special accommodations for access and participation in this course must be registered with the Office of Disability Services (ODS). Students who need exam accommodations must contact ODS in the first week of the term to arrange a meeting with a Disability Specialist.
Please contact ODS at 312/413-2183 (voice) or 312/413-0123 (TTY).